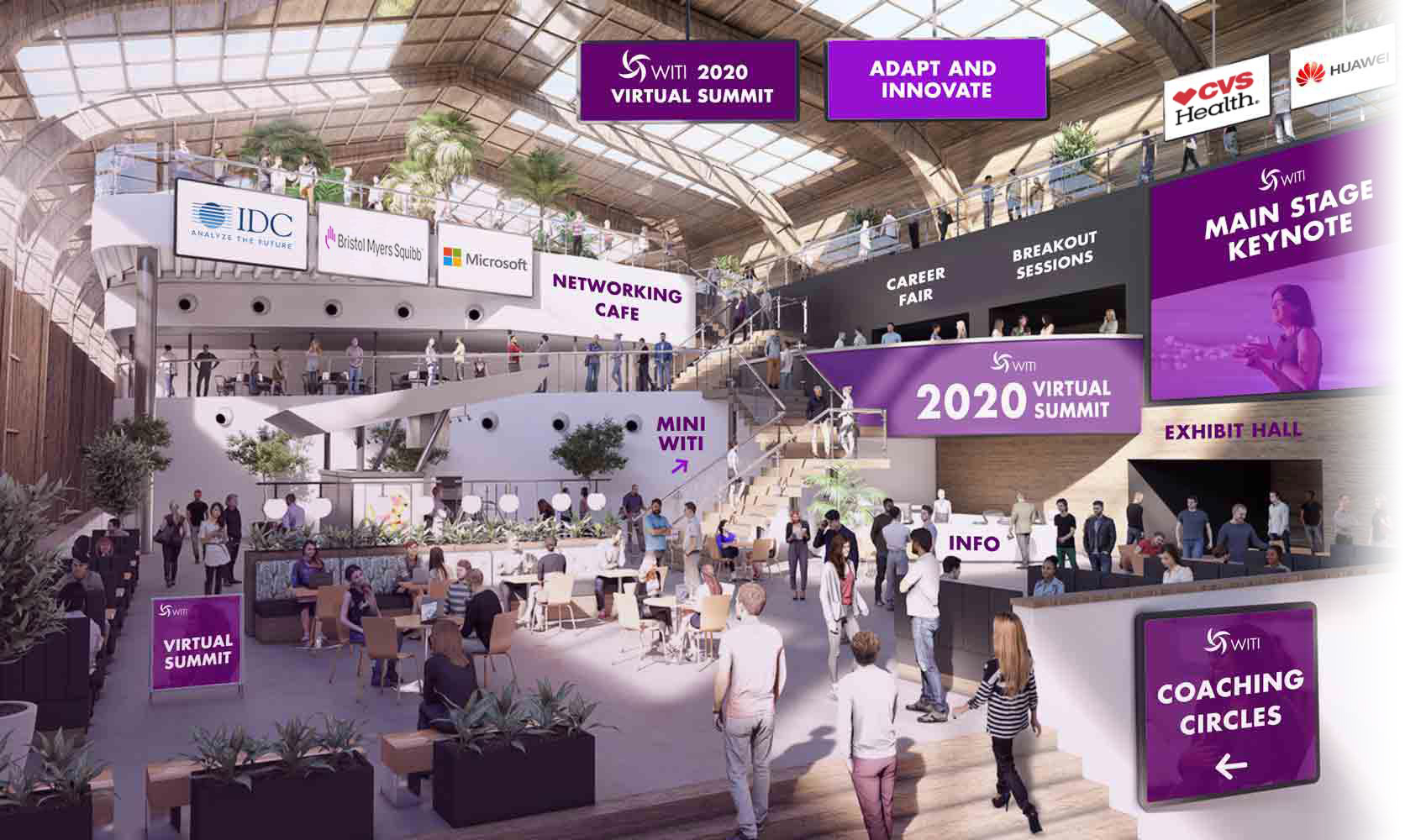 Thank You to All of Our Sponsors, Exhibitors, Partners, Speakers and Attendees for Making This Year's Virtual Summit and Career Fair a Success!
For the past 25 years, WITI has held a Summit in Silicon Valley. Because of this year's unprecedented circumstances we've had to postpone the in-person event, but we're doing it online!
From the "first computers," the ENIAC programmers honored at our Hall of Fame Awards, to Gloria Steinem inspiring WITI women to reach for the stars, to Donna Shirley who designed the first Mars Rover, and Patricia Arquette for saying it like it is. Every WITI Summit has been a historical event.
The 26th Annual Women In Technology Summit has the voices you need to hear right now. It will be an unforgettable event with amazing women inspiring you. There will be networking areas where you can learn and share with professional women from around the world, workshops to update your skills, seminars to hear the latest in your industry, the very popular professional coaching circles are back, MiniWITI scavenger hunt and so much more!
2




Days

200+




Hours of Content

100+




Speakers & Coaches

10,000+




Virtual Attendees
The 2020 WITI Virtual Career Fair
The 2020 WITI Virtual Career Fair connects skilled professional women in business and technology fields with top leading employers. The WITI Virtual Career Fair supports employer jobs with targeted promotions based on job titles and locations. Reach thousands of professional women who will participate in the WITI Annual Summit Virtual Career Fair. And it's FREE to job applicants.
The 2020 WITI Virtual Summit Features
Featured Speakers Include
Beena Ammanath, Founder, Humans for AI
Michelle Bailey, GVP/GM & IDC Research Fellow, IDC
Marti Evans, Founder & President, Leap Dialogues
Lia Garvin, Senior Operations Manager, AR/VR Team, Google
Hailey Lennon, Regulatory Counsel, Coinbase
Kim Meninger, Founder, Executive Career Success
Keiko Munechika, Co-Founder, Daisuki Coaching
Rene Redwood, CEO, Redwood Enterprise
Kathleen Mitford, EVP & Chief Strategy Officer, PTC
Joy Tan, SVP Public Affairs, Huawei
Networking Opportunities
WITI's Virtual Summit will be highly interactive and designed to create a culture of inclusivity, inspiration, and relationship building, as we celebrate technology and each other!
Speaker Networking Discussions
During both days of the Virtual Summit, you can interact by entering our Networking Cafe's to personally engage with Summit Faculty and discuss issues of specific interest to you and your organization.
Innovation & Tech
Autonomous Vehicles
AI and Machine Learning
Voice Technology
Digital Health/BioTech
Women in Cloud
Security
Women and Drones
Blockchain/FinTech
Leadership & Growth
Why Diversity Drives Innovation: Life Lessons
Finding your Own Leadership Style
Strategies for Breaking into the C-Suite
Taking Your Seat on the Board
Thought Leadership across the team
Fostering Team Leadership
Overcoming the Obstacles to Effective Leadership
Leading Diverse Teams
Managing in Your Organization
Virtual Critical Thinking Circles
Professional Coaching
Setting Goals like a Boss
Connect To Your Power
Strengthen Your Leadership Edge
Taking Down the Goliaths
Mastering the Balance between Likability & Respect
Women Breaking Glass
Communicating with Your Team While Being Remote
Leading with Empathy and EQ
Are You Managing Your Stress, or Is It Managing You?
The WITI Wellbeing Center
Find and use the right energy for the right task
Relax through yoga postures and increase your productivity
Learn how the brain works and techniques you can use
Access information and inspiration through guided movement with music
Use mindfulness to help you become the best leader you can be
Bring awareness to your body to open new thoughts and ideas
Learn the importance of intentionally getting into the parasympathetic nervous system
Learn to "rest and digest" your body and mind
About WITI
WITI (Women in Technology International) is committed to empowering innovators, inspiring future generations and building inclusive cultures. A leading authority of women in tech and business, WITI has been advocating and recognizing women's contributions in the industry for more than 30 years. The organization delivers leading edge programs and platforms for individuals and companies — designed to empower professionals, boost competitiveness and cultivate partnerships, globally. Our ecosystem includes more than 3 million professionals, 60 networks and 300 partners, worldwide.