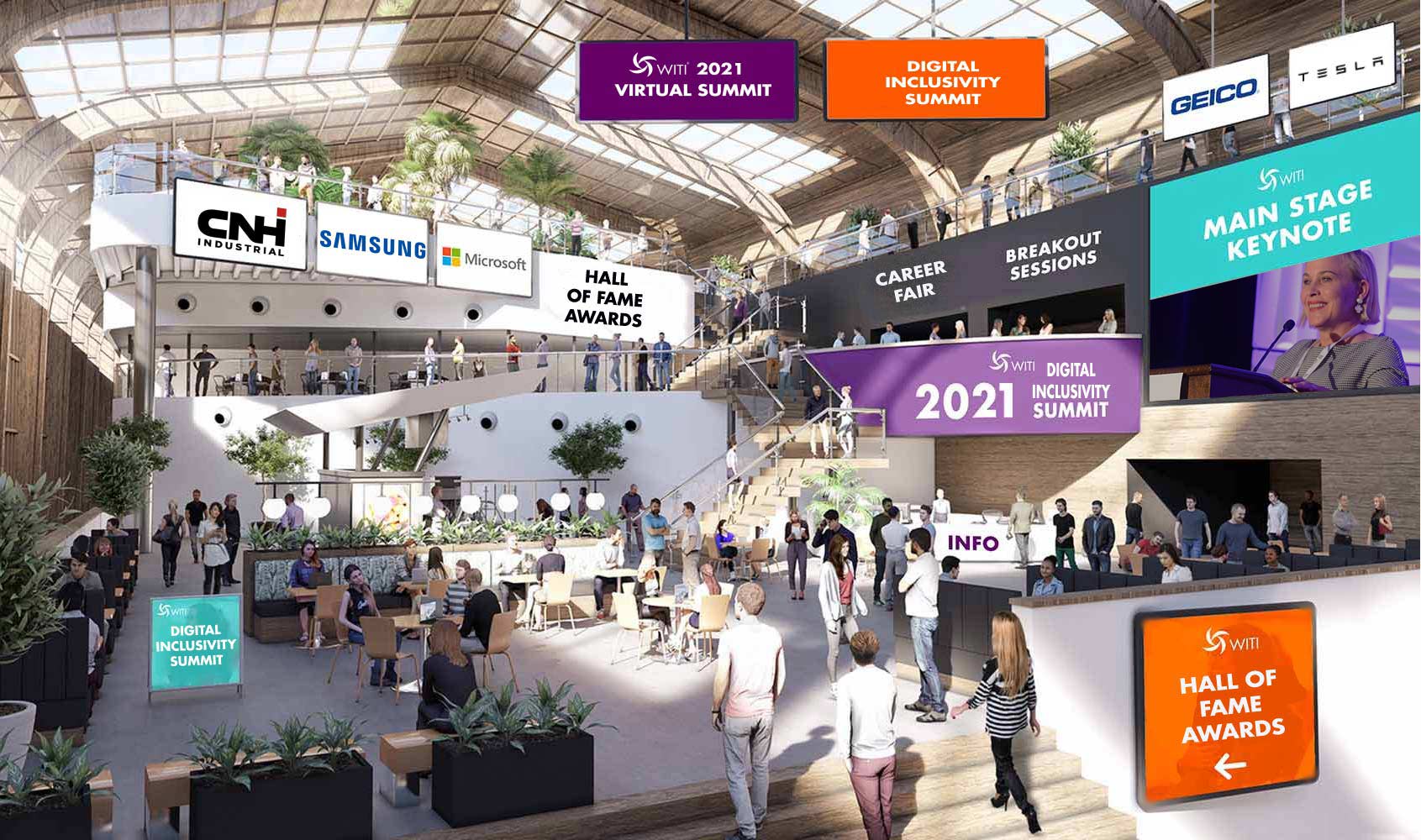 About the December Summit
WITI's Digital Inclusivity Summit will take place December 7-8, 2021 online with attendees, speakers, award winners and inductees from across North America, South America, EMEA and APAC.



4000

Attendees




75

Speakers




50

Sessions




37

Countries




8

Hall of Fame Inductees




10

D&I Tools Award Winners




10

Women Owned Start Up Winners
WITI Summit Agenda
* Subject to Change
Day 1
7:30 AM – Global Networking Event
8:00 AM – Keynote
8:30 AM – Keynote
9:00 AM – Breakout 1

4 Hall of Fame Inductees
4 Tech Sessions
Coaching Circles/Professional Development Speakers

9:00 AM – Breakout 2

4 Hall of Fame Inductees
4 Tech Sessions
Global Networks Event

11:45 AM – Glass Ceiling-DEI Standards & Best Practices
12:30 PM – Hall of Fame Closing Ceremonies
Day 2
8:00 AM – Keynote
8:30 AM – Keynote
9:00 AM – Breakout 1

Women Owned Business Panel
VC Speaker
VC Panel
Women Owned Business Awards

9:00 AM – Breakout 2

Tools to Watch
Panel
DEI Speaker-Hurdles/Successes
D&I Tools Awards
Panel
D&I Tools Magic Quadrants

12:30 PM – Keynote
1:00 PM – Career Fair
Registration
Join WITI online — Don't miss out on this extraordinary opportunity.
Save $300
Super Early Bird Summit Pass

$395

$95 $145 for Non-Members


Until October 1st

(

Regular Price $395 for Members, $495 for Non-Members

)

Career Fair/Exhibit Hall Access

Join the Movement
Realize an Inclusive Workplace
About WITI
WITI (Women in Technology International) is committed to empowering innovators, inspiring future generations and building inclusive cultures. A leading authority of women in tech and business, WITI has been advocating and recognizing women's contributions in the industry for more than 30 years. The organization delivers leading edge programs and platforms for individuals and companies — designed to empower professionals, boost competitiveness and cultivate partnerships, globally. Our ecosystem includes more than 3 million professionals, 60 networks and 300 partners, worldwide.
Find Out More